Air conditioning service and maintenance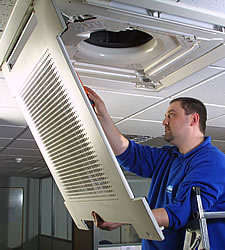 With maintenance contracts already set up with customers like Crawley Borough Council, we are dedicated to expand in getting more service contracts in place with local companies surrounding Crawley, Gatwick, Surrey, Sussex and Kent.
Whether it is to maximise comfort cooling in your work space for you and your colleagues or keep a critical server room or computer room cooled, it is vital to maintain your air conditioning system(s) to prevent unnecessary damage – which would be more of an expense to fix then an annual service contract.
We understand, like all mechanical equipment, faults can occur. However, these can be prevented for just an annual check up and clean.
If you choose to take an annual service and maintenance contract for your air conditioning with London Cool, we are happy to offer the following promises.
During hot or cold weather or if you have a critical areas that require cooling or heating, we are happy to provide you with portable equipment should you need to wait for parts for the system to be fixed.
In the event of a breakdown, we will endeavour to send out one of our Sussex based technicians to your site as quickly as possible.
If it comes to the event of a breakdown, customers with service contracts would always take priority over customers without contracts.
We currently have local offers on all service contracts so if you would like us to provide you with a free quotation for a service and maintenance contract for your air conditioning please do not hesitate to
contact us on 0800 440 444.